ECORASTER TE40 – the all-round ground reinforcement element for paddocks, field access and feeding areas.
This classic product in modern paddock construction is available in different designs - with or without cover.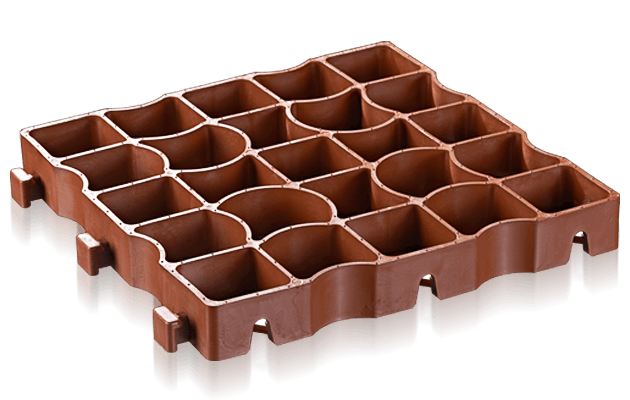 Product description
Often copied, but never matched! The ECORASTER TE40 is the simple solution for mud- and sludge-free surfaces. It offers high durability and accessibility and significantly reduces the maintenance effort for paddocks, muster and resting areas.

The ECORASTER TE40 - our most popular ground reinforcement system for equestrian use - offers excellent value for money and is perfect for use in paddocks. Thanks to its wall thickness of 40 mm and its robust structure, the TE40 is always reliable and able to withstand high loads. It is therefore ideally suited for forest tracks, footpaths and enclosures.
Dimensions:

33 x 33 x 4 cm | 12.99 x 12.99 x 1.57 "

Wall thickness:

up to 3.6 mm | 0.14 "

Weight per piece:

0.63 kg (excl. concrete blocks)

Weight per m²:

5.67 kg (excl. concrete blocks)

Material:

LD-PE, recycled

Area per pallet:

73.33 m²
Regularly tested and certified
Forestry and agriculture

Equestrian use