ECORASTER TS50 – the ground reinforcement system for professional everyday use.
The TS50 gives your ground noticeably more spring and elasticity.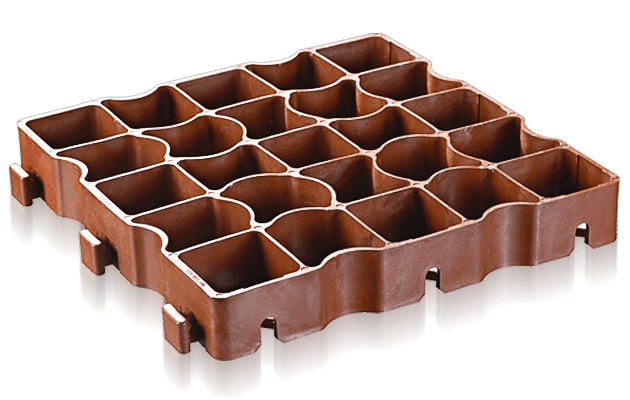 Product description
Tried and tested for equestrian use and recommended by top international competitors. The TS50 will win you over with its exceptional elasticity and unmatched spring comfort for regular, high stress applications such as dressage, show jumping or western riding.
And more robustness and freedom of movement means more safety for horse and rider. Just like a good sneaker for human athletes, a good surface protects a horse's musculoskeletal system. Our ECORASTER TS50 can transform hard concrete floors - for example in conference halls - into slip-proof and springy high-performance equestrian surfaces.
Dimensions:

33 x 33 x 5 cm | 12.99 x 12.99 x 1.97 "

Wall thickness:

up to 2.5 mm | 0.098 "

Weight per piece:

0.74 kg

Weight per m²:

6.66 kg

Material:

LD-PE, recycled

Area per pallet:

57.33 m²
Regularly tested and certified
Forestry and agriculture

Equestrian use